Boots and Bubbly " A Tribute to Wayne Shipley"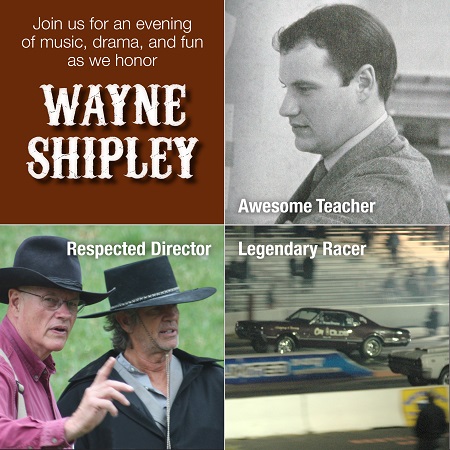 Boots and Bubbly
"A Tribute To Wayne Shipley"
Saturday, October 24, 2015
in the Hammonds Lane Theatre
6:00pm-7:00pm VIP reception
7:00pm Doors | 7:30pm
Tribute Tickets:$30.00-Reception and Tribute
$15.00-Tribute Only

The Chesapeake Arts Center presents a special evening in honor of Director & Educator Wayne Shipley. The evening celebrates the history of Wayne's career as a Teacher, a past President of the Northern Anne Arundel County Chamber of Commerce, an Actor, Legendary Racer, and Director.

The night will start off with a special "Boots and Bubbly VIP Reception" from 6:00pm-7:00pm with Hors d'oeuvres, Champagne, Beer, Wine and Soda with Wayne.

Followed by a special Tribute to the Guest of Honor on the Hammonds Lane Theatre main stage with skits, songs, videos, and more!

The proceeds raised from the event will support a scholarship to the Chesapeake Arts Center.

About Wayne Shipley: Wayne Shipley is known by alumni of both Andover High School and North County High School. Wayne taught at Andover, eventually becoming chairman of the English Department, from 1967 through 1989. When Andover and Brooklyn Park High merged to become North County High School, Wayne continued as Department Chair from 1990 until his retirement in 1997.

After retirement from the county school system Wayne embarked on the renovation of elements of the old Brooklyn Park High School building, which became the Chesapeake Arts Center. Serving as its first Executive Director, Wayne oversaw the building modifications and helped to put the Center on the map with art classes, theatrical productions of local theatre companies and national acts such as Crystal Gayle. During this time, he also served on the board of the Cultural Arts Foundation of Anne Arundel County. Following a brief hiatus from his community service, Wayne moved to work with the Northern Anne Arundel County Chamber of Commerce, eventually becoming its President for two years. At approximately the same time, he also served on the board of the 21st Century Foundation.

Despite the many demands of the Arts and Education, he still found time to work on his cars and continued his long-time success as a drag racer.

His high school directing assignments included Camelot, City of Angels, and West Side Story, often collaborating with musical director Neil Ewachiw. His non-musical efforts at the school included Plaza Suite, M*A*S*H, To Kill a Mockingbird, The World's Worse High School Play, Up the Down Staircase, and Never Mind What Happened, How Did It End? Twenty years ago, Mr. Shipley, along with John Strawbridge and founder Gary Wheeler, formed Actors Company Theatre, where he directed The Fantasticks, Man of La Mancha and The Lion in Winter. He also worked as technical director for On Golden Pond. Most recently he directed Seussical the Musical for ACT. He has also worked for Merely Players' directing their production of Into the Woods. Venturing into the world of independent filmmaking, Wayne has worked production crew and appeared in Terror in the Tropics for Midnight Marquee and the Death of Poe for Redfield Arts. He also was associate producer with Zero Point Productions on their debut project Convergence.

He also has performed as a background actor in major motion pictures including Liberty Heights, Species II, Runaway Bride, Pecker and Cecil B. Demented.

Wayne also frequently provided technical direction for Pasadena Theater Company including their productions of Little Shop of Horrors, Dracula and It's a Wonderful Life.

Wayne's first original movie western, One-Eyed Horse (also available under the title Come Hell or High Water) has been followed by his second film, Day of the Gun starring Eric Roberts. Both films are available for purchase online and Day of the Gun is currently available at Walmart.