Bay Theatre Company Presents: Bad Dates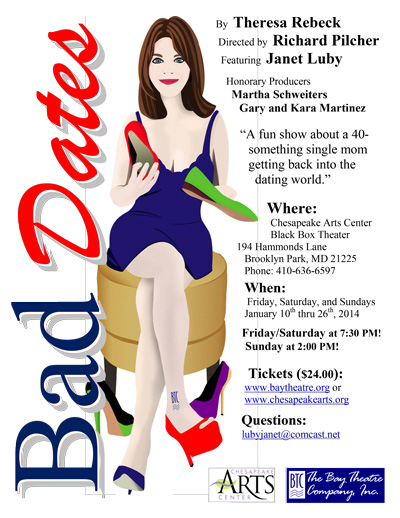 Bay Theatre Company Presents: Bad Dates
Fridays, January 10, 17 & 24, 2014
Saturdays, January 11. 18, and 25, 2014
Sundays, January 12, 19, and 26, 2014
In Studio 194
Fridays & Saturdays:7:00pm Doors | 7:30pm Show
Sundays: 1:30pm Doors | 2:00pm Show
Tickets: $24.00 + $4.00 Surcharge
Bad Dates begins with an introduction to one woman's array of shoes and clothes: classy, earthy, cute, and even dangerous
Dating stinks, dating after a certain age is even worse, but dating while trying to raise a teen, run a business and evade past mistakes before they catch up, that's even harder. Playwright Theresa Rebeck's character, Haley Walker has confidence, competence, humor and introspection, all while battling insecurity, incompetence, black moods, impulsivity and a noir-ish plot twist.
Haley's conversation with the audience begins like we're old, trusted friends who've seen her at her best and worst.
An evening with Rebeck's Bad Dates makes for a great evening out. It's an intriguing combination of performance and confession,. You will lean in close to hear more about Haley's night with that guy who talked about his colon, and wince when later, she gets stood up. You will meet her eyes and smile sympathetically, and very quickly, we forget about her bags and boxes full of shoes, or the quality of her clothes, and focus all our attention on the character wearing them. That, it seems, is a very successful date.