Baltimore Rock Opera Society presents… "The Brides of Tortuga"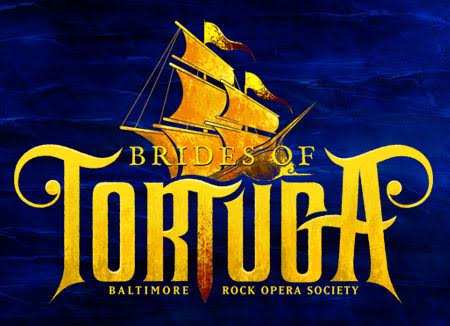 Fridays & Saturdays;
October 28 - 29, 2016
November 4 & 5, 2016
November 11 & 12, 2016
8 pm in the Hammonds Lane Theatre
Tickets: $20.00

"Brides of Tortuga" is the eighth original production written and produced by the Baltimore Rock Opera Society. This violent, raucous, rebellious rock 'n roll musical begins in 1661 in Calais, France, and crosses the vast Atlantic Ocean before coming to a bloody close in the Caribbean Sea. The show features a large cast of female leads, epic sets, intensive fight choreography and powerful vocal ensemble – combined with a live rock band/orchestra, "Brides of Tortuga" creates a powerful statement about rage, self-determination, friendship... and kicking butt on a boat.

About the BROS: The Baltimore Rock Opera Society is a passionate community of artists who create unforgettable experiences through live original rock theater. BROS was founded in 2007 by a small group of friends sitting in a basement dreaming of an impossibly enormous story that would be told through the awesome power of rock. Since that time BROS has become a powerhouse of Baltimore's cultural landscape comprised of a highly energetic group of actors, writers, designers, builders, musicians, and artists with the mission of producing original, live rock operas.